Ref:
Date:
Location:
Photographer:
Ref:
Date:
Location:
Photographer:
2018 EXHIBITIONS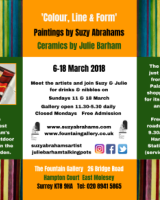 6-18 MARCH 2018
'Colour, Line & Form'
Paintings & designer scarves by Suzy Abrahams.
Ceramics by Julie Barham
The Fountain Gallery
26 Bridge Rd
Hampton Court
Surrey
KT8 9HA
Meet both artists and join them for informal drinks & nibbles on Sundays 11 & 18 March from midday.
www.fountaingallery.co.uk
Free Admission
Open Tuesdays-Sundays 11.30-5.30.
Closed Monday 12 March.
Free 3 hour parking in Bridge Rd and surrounding roads after 9.30am.
25 JANUARY-8 APRIL 2018
'Water, Water, Everywhere'
Exhibiting with The Fountain Gallery
Stables Gallery
Orleans House
Riverside
Twickenham, Middlesex TW1 3DJ
Orleans House Gallery on Facebook
Open Tuesdays - Sundays 10am -5pm.
Free Sunday artist demonstrations 2-4pm
Free on site parking available
Free Admission
23-25 FEBRUARY 2018
Surrey Contemporary Art Fair
with The Fountain Gallery
www.contemporaryartfairs.co.uk
PREVIOUS EXHIBITIONS
2017
84th National Society Exhibition, Menier Gallery, Southwark, London JULY 2017
'Journeys' Group exhibition. Fountain Gallery, Hampton Court JUNE 2017
SCOLA end of year show, Europa Gallery, Sutton, Surrey JUNE 2017
'Texture, Shape & Colour' Solo painting show with ceramics by Julie Barham, Fountain Gallery, Hampton Court MAY 2107
Click on arrow to watch short video.